Guests of Honor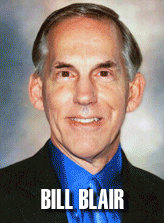 Bill Blair
Bill Blair played various background aliens in 45 episodes of Star Trek: Deep Space Nine, two episodes of Star Trek: Voyager and four episodes of Star Trek: Enterprise.

 

He appeared as several "

Westmore

aliens" on the last five seasons of Deep Space Nine and the last two seasons of Voyager, portraying

Cardassians

,

Jem'Hadar

and

Klingons

, besides playing at least three different

Vulcans

on Enterprise.

 

Most recently, Blair appeared as a Chelsea civilian in the 2013 film Star Trek

Into

Darkness.

 

Aside from his performances in the Star Trek television and movie productions, Blair also made an appearance as "Borg drone 6 of 9" in the movie made for the 2004 Borg Invasion 4D

ride

at the Las Vegas Star Trek: The Experience attraction.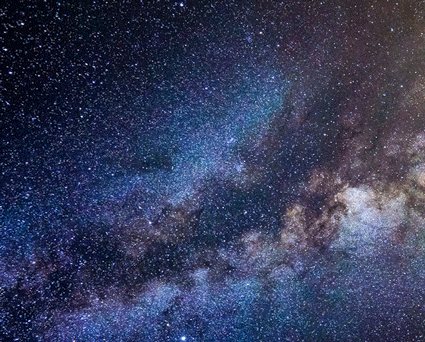 Blair is probably best-known for his on-screen work as a regular alien actor on the television series Babylon 5, where he appeared in almost every episode and two of the Babylon 5 television films.

 

As in Star Trek, it's hard to spot him because he is mostly under heavy makeup, playing

Minbari

,

Narn

and other aliens.

His acting résumé includes films such as New Year's Evil, R.O.T.O.R., Dinosaur Valley Girls, The Acid House, the science fiction comedy Evolution, the comedy Blades of Glory and the science fiction sequel Resident Evil: Afterlife.

 

His résumé also includes guest appearances and regular background roles on television series such as Arliss, Ally

McBeal

, Sliders, The Invisible Man, The X-Files, The Drew Carey Show, The

Waltons

, Curb Your Enthusiasm, Charmed, Saving Grace, Alien Nation, Heroes, Mad Men and NCIS.

 

Blair also played Commander Blodgett in the Star Trek: New Voyages episode "Blood and Fire."



In 2011, the Guinness Book of World Records recognized Blair as the record holder in the category of "Most Special Effect Make-Up Characters Portrayed in a Career" with 202 characters.



Visit

Blair

's web site at AlienActor.com.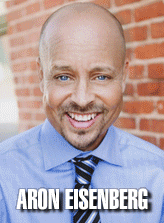 Aron Eisenberg
Aron Eisenberg is best known for portraying Nog in 47 episodes of Star Trek: Deep Space Nine and Kar in one episode of Star Trek: Voyager.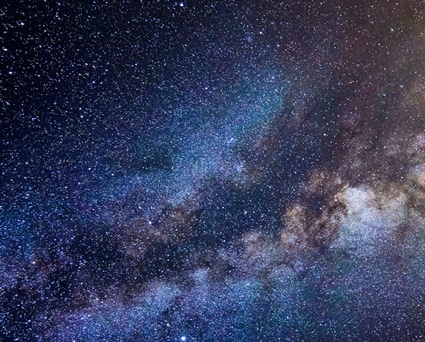 Eisenberg made his first acting appearance in the 1989 movie Beverly Hills Brats. Since then, he has starred or appeared in the films The Horror Show, Amityville 4: The Evil Escapes, Playroom, Streets, Prayer of the Rollerboys, Puppet Master III: Toulon's Revenge, The Liars' Club, Pterodactyl Woman from Beverly Hills and the 1998 television adaptation of Brave New World. His television work includes roles in Parker Lewis Can't Lose, Tales from the Crypt, The Secret World of Alex Mack and Brotherly Love.

Eisenberg reprised his role as Nog in the Star Trek Online video game beginning in the Season 10 mission "Time in a Bottle" in 2015.

Visit Eisenberg's web site at AronScottPhotography.com.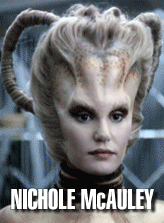 Nichole McAuley
Nichole McAuley is an actress, model and makeup/hair artist who appeared in twenty-five episodes of Star Trek: Voyager. She appeared as a resort woman in the episode "Before and After" and then as a second unit photo double for Jeri Ryan late in the fifth season. She was then chosen as first unit photo double for the episode "Relativity." During the sixth season, McAuley appeared as a recurring background actress, such as a Voyager science officer and as the Tarlac masseuse in the episode "Life Line."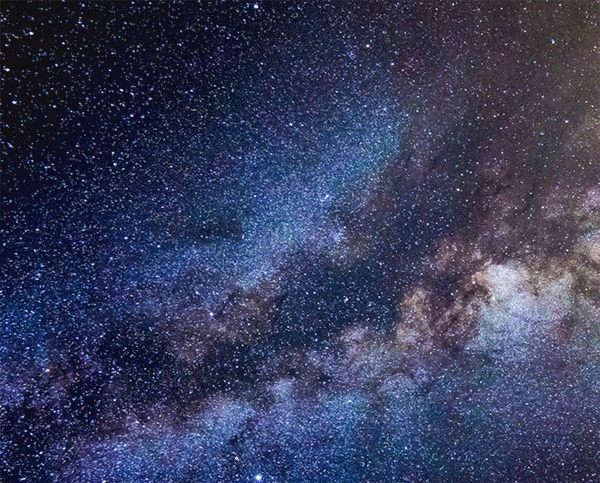 Born in Atlanta, Georgia, McAuley started appearing at beauty competitions at the age of eight. She worked as a model for commercials and started working as an actress with her move to Los Angeles. As a trained dancer, McAuley was also cast for television and film productions. For two years, McAuley worked as a "living Barbie" for Mattel at several conventions and at the Easter Roll at the White House.

Among her work are the action comedy BrainSmasher... A Love Story, the fantasy comedy Addams Family Values, the drama I'll Do Anything, the crime comedy Beverly Hills Cop III, the crime drama Out-of-Sync and the comedy The Nutty Professor. Further film work includes the crime thriller Kiss the Girls, the drama Madam Savant, the thriller Killing the Vision, the action drama Extreme Honor, the television movies A Passion, Naked Passions and Talk Dirty, the horror comedy Terror Toons 2 (on which she also worked as makeup artist and associate producer) and the action film Syndicate Smasher.

McAuley was cast as a dancer on the television series EZ Streets and The Last Don and worked on episodes of Father Murphy and Beverly Hills Bordello. As a makeup artist, she worked on the television series Stranger Adventures, the comedy The Young, the Gay and the Restless, the documentary Scout's Honor and the action thriller Check Point.

Visit McAuley's web site at nicholemcauley.com.
Author Guest of Honor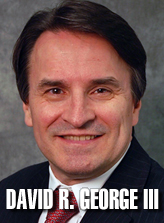 David R. George III
David R. George III is The New York Times and USA Today bestselling author who co-wrote the first-season Star Trek: Voyager episode "Prime Factors" and the author of 18 Star Trek novels and 18 articles for Star Trek Magazine.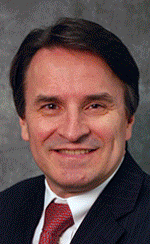 George's Star Trek novels include Original Sin, The Long Mirage, Ascendance, Sacraments of Fire, One Constant Star, Revelation and Dust, Allegiance in Exile, Raise the Dawn, Plagues of Night, Rough Beasts of Empire, The Embrace of Cold Architects, The Star to Every Wandering, The Fire and the Rose, Provenance of Shadows, Olympus Descending, Serpents Among the Ruins, Twilight and The 34th Rule.

His articles for Star Trek Magazine include "Star Trek 45s: 'Fight or Flight,'" "Do You Believe in Miracles?," "The Ultimate Guide: Deep Space Nine, Season 7," "Who Is... Christopher Pike?," "Who Is... Scotty?," "Who Is... Chekov?," "Resurrecting Okona," "Who Is... Doctor McCoy?," "Who Is... Sulu?," "Who Is... Jim Kirk?," "Life from Lifelessness," "Condemned for a Villain: Winn Adami," "Trek Lit Villains: Colonel Mitra," "Trek Lit Villains: Aventeer Vokar," "The Voice of the Hidden Waterfall," "Cowboys and Diplomats," "All the Galaxy's a Stage" and "Of Ice and Moonlight."

George's non-Trek work includes the novelettes "Moon Over Luna," "The Instruments of Vice" and "The Dark Arts Come to Hebron," all available as e-books on Amazon.com.

Born and raised in New York City, George and his wife Karen now reside in Atlanta, Georgia. Visit his web site at DRGIII.com.
Fan Guest of Honor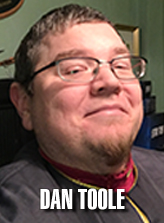 Dan Toole
Dan Toole is the Commander, STARFLEET (and corporate president) of STARFLEET International, the largest Star Trek fan club in the world with more than five thousand members and a nonprofit corporation legally registered in the state of North Carolina.

Like so many others, Toole started his love of Star Trek by watching original series episodes with his dad. He said, "I remember when my Mom got him the VHS of the original pilot 'The Cage,' we watched that together and I wanted to see more." It was when Star Trek: The Next Generation came out that he started truly "fanboying." "We saw all of them, even skipped school for the movies. We went to every convention in the area, but sadly, interest in the area waned and all the cons stopped." Toole continued watching all the series through reruns at first, then DVDs, then finally, the streaming services. He found STARFLEET International a few years ago in an unusual place: "I was reading an article from CNN about unusual scholarships, that's where I found STARFLEET." He joined a local chapter and a few years later was elected as Vice-Commander, STARFLEET. When the previous Commander, STARFLEET had to step down for health reasons, Toole had to fill the shoes. When asked, he said, "Well at least I won't have to buy any more rank pips. Now, let's get to work!"

As the official host of the 2019 Region 2 Summit, Treklanta is pleased to welcome the Commander, STARFLEET to Atlanta. Fleet Admiral Toole is also the commanding officer of the USS Sinclair NCC-74209 in Berkley, Michigan.
Featured Guests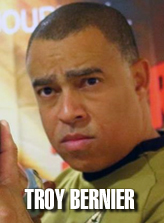 Troy Bernier
Troy Bernier is a geoscientist who has worked extensively in West Africa, Europe and the United States. He co-directed and produced the first Florida science fiction film and has played roles in the Star Trek: New Voyages fan-favorite fan film "Mindsifter." He is a proud Dad and a co-founder of the Miami International Science Fiction Film Festival, currently in its seventh season. Bernier is a doctoral candidate at Florida Atlantic University and recently served on the 2018/19 SAS-C grant panel, where he awarded over $850,000 of grants to nearly 40 Miami-Dade Summer camps.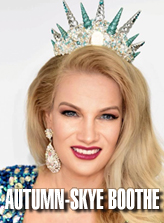 Autumn-Skye Boothe
Autumn-Skye Boothe is the owner of Majestic Productions USA, which has helped coach five national queens and numerous state winners, and was certified as a Miss America judge through the Miss America Organization workshop in Hagerstown, Maryland.

Boothe has judged, emceed, placed or won in over 100 competitions over 30 years, from her first title as Miss Columbia National Teenager in 1987 to her most recent crowning as Mrs. Ocean Mid-Atlantic 2018. Just a few of the titles she has won onstage include Ms. East Coast USA (twice, in 2006 and 2011), Mrs. Virginia United States, Mrs. North Carolina Pickle Princess, Ms. World Elite and 2017's "All American Woman." She will compete at her next national pageant in July.

Boothe graduated Columbia College with honors at age 15, completed a post-baccalaureate degree program and is now an operations manager for an insurance services company. An avid animal rescue advocate and 16-year breast cancer survivor, she is an equally avid cosplayer. She previously served as a judge for the Miss Klingon Empire Beauty Pageant from 2001 to 2008 when it was held at Dragon*Con, and is delighted to return to Atlanta to judge this year's pageant at Treklanta!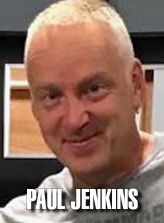 Paul Jenkins
Paul Jenkins is one of the premier creators and writers of comic books, graphic novels and video games in the world today. After five years working with the creators of the Teenage Mutant Ninja Turtles in the fields of editorial, production and licensing, Jenkins began his freelance writing career in 1993 as scribe of the DC Comics Hellblazer (upon which the 2014 TV series is based). In 1997, Jenkins won an Eisner Award for his work on Marvel Comics' Inhumans series.

Jenkins has since worked on virtually every comic character in the business, including Spider-Man, Batman and The Incredible Hulk, and the smash hit Wolverine: Origin, for which he won five Wizard Fan Awards. Much of his work has been appropriated for film, including Wolverine: Origin and the Inhumans series. Other work for Marvel includes the blockbuster Frontlines series, a part of the Civil War event, the Mythos series and Captain America: Theater of War. In addition, his creation The Sentry has become a mainstay of the Marvel Universe. Jenkins has been featured at #1 on The New York Times bestseller list for his graphic novel work. He recently completed the first of two novels—entitled Curioddity—for St. Martin's Press, which was released in August 2016.

In the gaming industry, Jenkins has served as writer and/or creative director on such titles as Twisted Metal: Black, Soul Reaver, God of War and Incredible Hulk: Ultimate Destruction. 2007's The Darkness earned him a British Academy of Film and Television Arts (BAFTA) award nomination for storytelling and characterization, as did Vivendi Universal's 2008 smash hit Prototype. His work as narrative director, 2K Games' The Darkness II, hit stores in February 2012.

In 2015, Jenkins was asked by Georgia Governor Nathan Deal to assemble and chair an advisory committee to educate the Georgia General Assembly on the evolution of digital and interactive technologies.

In October 2017, Axanar Productions announced that Jenkins had joined the writing team that would help rewrite the original Axanar script that would eventually be filmed as the two 15-minute episodes permitted by the Paramount Pictures Corporation v. Axanar Productions, Inc. lawsuit settlement. Jenkins stated, "Alec [Peters] and his team have created something to be admired, in the true spirit of entrepreneurial filmmaking. As a fan of the project so far, I'm thrilled to be joining Axanar and I'm looking forward to helping make some magic!"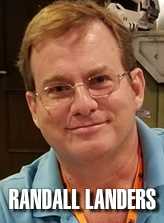 Randall Landers
The creator and executive producer of Potemkin Pictures, Randall Landers has produced over 70 Star Trek fan films since 2010, including more than two dozen that he wrote and more than three dozen that he directed, several of which have won awards over the years. As such, he manages the creative groups responsible for Project: Potemkin, Starship Tristan, Starship Deimos, Battlecruiser Kupok, Hospital Ship Marie Curie, Starship Endeavour and Starship Triton. Each of these groups has their own take on their approach to Star Trek fan films, and hundreds of thousands of fans have viewed them on YouTube and Vimeo.

Landers occasionally turns up in his own productions, but prefers to leave the limelight to his talented cast. For Project: Potemkin, he played Commander Brian Reigert in "The Old Guys" and "Care for a Lift?," Science Officer Thruul in "Doctor's Orders," Krin-tu in "The Night the Stars Fell from the Sky" and Harry Mudd in "All in a Day's Work." He also played a security officer in the Starship Tristan episode "Departures" and Starship Triton episode "New Orders," and Science Officer Reigert in the Starship Deimos episode "The Deimos Factor."

A Georgia native who graduated from Emory University, Landers currently resides in Birmingham, Alabama, with his wife and two dogs. He is also the award-winning publisher and editor-in-chief of Orion Press, which published hundreds of fanzines for tens of thousands of readers from 1979 until 2013.

Landers will be at the Potemkin Pictures fan table during the convention. If you'd like to be involved in a Star Trek fan production, feel encouraged to stop by and introduce yourself.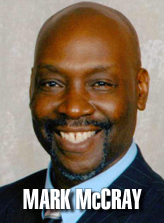 Mark McCray
Mark McCray is a senior manager of programming operations for Adult Swim, a division of Turner Broadcasting System, that offers original and acquired animated and live-action series for young adults. In this role, he oversees Adult Swim's on-air promotions and scheduling strategy. McCray is an award-winning television writer and has been in the broadcasting industry for over 18 years. He has a passion for programming strategy, animation and comic books. Prior to his work at Adult Swim, he worked as a television programmer for Cartoon Network and was a key member of the team that launched the Boomerang Network. McCray is also the author of The Best Saturdays of Our Lives, a book that chronicles the origins of competitive Saturday morning animated programming. For The Best Saturdays of Our Lives, he has been interviewed on Williams Street Swap Shop, Adult Swim's daily streaming web series, NYIT Magazine, and the Grumpy Old Nerds online series. More recently, McCray participated as a guest on the Drawn: The Story of Animation podcast and was a featured guest speaker at the SCAD AnimationFest, giving a historical view of Saturday morning programming.

McCray resides in Powder Springs, Georgia, with his family. Follow him on Twitter at @MarkmcCray54 and visit his web site at www.thebestsaturdaysofourlives.com.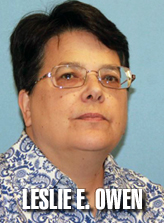 Leslie E. Owen
Leslie E. Owen is an agent, editor and freelance writer whose work has been published in the trade (Publishers Weekly, SCBWI Newsletter, et al.) and by Tradewind Books (Vancouver, London, Sydney), Crocodile Books (U.S.), Jewish Monthly, SickLit Magazine, Emerald Coast Review and Queer SF Anthology "Renewal." She represents writers of speculative fiction and is a freelance editor. She recently retired from teaching in Florida. Most recently, she led two Star Trek panels at Pensacon ("Diversity in Star Trek" and "The Defining Moments of the Captains of Star Trek") with videographer Kyle Sullivan (Trekspertise) and independent filmmaker Troy Bernier.

Owen is a judge and on the board of the SF Miami Film Festival and has appeared on the Star Trek/science fiction podcast Tribbles and Trilobites as a co-host. She will be appearing on a Star Trek panel at the Miami SF Film Festival in March.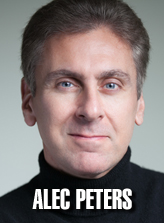 Alec Peters
The creator of the Axanar project, Alec Peters is known as one of Star Trek's biggest fans, and one who honors the canon of the beloved franchise through his visionary film "Prelude to Axanar."

Peters is the epitome of someone who discovers their calling and succeeds in pursuing it. An attorney by training, Peters coached an NCAA Championship volleyball team at USC and with the US National team. He has started five companies, earning him an Ernst & Young Entrepreneur of the Year Award in 2003. Peters has written the Star Trek Prop, Costume & Auction Blog since 2006, and is one of the foremost experts on collecting screen-used Star Trek props and costumes. In 2008, he created Propworx, which held the Battlestar Galactica prop auctions, considered by many to be the finest prop & costume auctions ever, followed by studio-sanctioned auctions for Stargate, Star Trek, Iron Man I and II and the Kevin Smith auction. In 2011, Peters was appointed archivist by CBS for their Star Trek archive, working on the various Star Trek exhibition tours, the last one being the 2012 "Pacific National Exhibition" leg of the Star Trek: The Exhibition tour exhibit in Vancouver, Canada. Prior to his appointment, he had been entrusted by CBS in 2010 with the auctioning off of the exhibit assets of the defunct Las Vegas Star Trek: The Experience exhibition.

"Prelude to Axanar" has won 46 film festival awards around the world and Peters is not only the creator, but also writer, producer and actor, portraying legendary Starfleet Captain Garth of Izar. Peters first appeared as Garth in the Star Trek: Phase II episode "Origins." With two more episodes of "The Four Years War" in preproduction, Axanar will explore the legend of the man who Captain Kirk considered to be his personal hero, and the famous Battle of Axanar.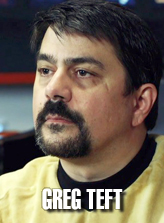 Greg Teft
Greg Teft returned to acting after a 30-year hiatus in the real world to play Captain Nuno DaSilva in Starship Republic, "a Star Trek fan film project aimed at recapturing the excitement and morality of Gene Roddenberry's original vision" which is scheduled to resume production in the fall of 2019. He also portrays engineering officer Timoteo Russo in The Constar Chronicles. Three years into working fan films, Teft has also written and directed an episode for The Constar Chronicles, filmed in April 2019 and due for release later this year.

Teft's love of science fiction and military technology has also been an inspiration for a lifelong hobby in scale model building. As a child, Star Trek and other science fiction inspired his initial interest in technical drawing, which led to early jobs as a draftsman at two northeast shipyards, later to his degree and then his current career in computer science and information technology.

Teft also enjoys being a grandparent, residing in Maine with his wife, three cats and two dogs.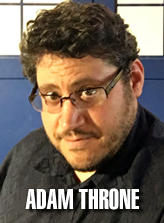 Adam Throne
Adam Throne is an Atlanta-based writer, editor, producer and educator. He has written for online and print genre publications, including Fantasy-matters.com, TheForce.net, Doctorwhonews.com, Shoot Online, Brandera.com and Kaplan multimedia, and has contributed essays to the genre collections Children of Time: The Companions of Doctor Who and the upcoming Star Trek's Greatest Hits. His film and video credits include Looking for Harrison, Take Me Out and the online sensation, Teachers Acting Like Students. He has taught courses in science fiction, fantasy, horror, creative writing and journalism. Throne is also a co-director of the Otherworlds Track at WHOlanta. He also has Romulan DNA, but you'll have to ask him about it.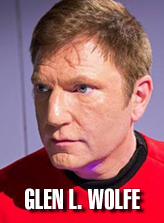 Glen L. Wolfe
Glen L. Wolfe is a retired biomedical engineer and Star Trek fan who has been involved with many fan films through the years in a wide variety of ways.

Wolfe wrote, directed, executive-produced and acted in The Federation Files episodes "His Name Is Mudd," "Walking Bear, Running Wolf" and "Extraction." Additional acting credits include Star Trek: Secret Voyage (as a Gondea Warrior in "Rise of the Gongdea"), Star Trek Continues (as Ops Technician in "Fairest of Them All"), Star Trek: Temporal Anomaly (as Lt. Glen Wolfe), Star Trek: Renegades (as Muscular Prisoner in "Pilot"), Star Trek: New Voyages (as an extra in "Mind-Sifter" and "The Holiest Thing"), Starship Valiant (as Transporter Technician in "Crosses to Bear") and Star Trek: Equinox (as Transporter Chief Guy Wolfe in "The Night of Time").

Wolfe also served as producer for Star Trek: Secret Voyage ("Rise of the Gongdea"), associate producer for Star Trek Continues ("Fairest of Them All," "The White Iris" and "Divided We Stand"), contributing producer for Star Trek: New Voyages ("Mind-Sifter" and "The Holiest Thing"), line producer for Star Trek: Equinox ("The Night of Time") and executive producer for Star Trek: Deception, Star Trek: Temporal Anomaly, Star Trek: Horizon and Star Trek: Ambush.

Wolfe has also contributed to these projects in various other roles, including property master, set director, set decorator, animatronics, construction grip, camera operator, costumer, wardrobe supervisor and practical effects. Currently, along with Dan Reynolds, he is in production of two more Federation Files chapters filming at WaRP 66 Studios.
Guest Performers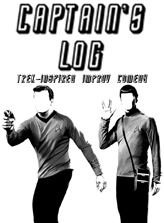 Captain's Log
Captain's Log is an improv comedy group that performs the first Friday of each month at the Village Theatre in Atlanta. The cast includes Bret Brammer, Cory DiMino, Eric Holden, Jim Rowbottom, Jen Thrasher and Byron Youngblood, with Catherine Clark and J. J. Krehbiel providing tech support. Most of the crew are big fans of sci-fi, but some have never seen an episode of Star Trek. It's a sci-fi mishmash hodgepodge of galactic proportions.

Captain's Log first performed at Treklanta in 2016 and we are pleased to have them back for a return engagement in 2019!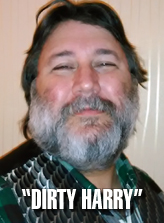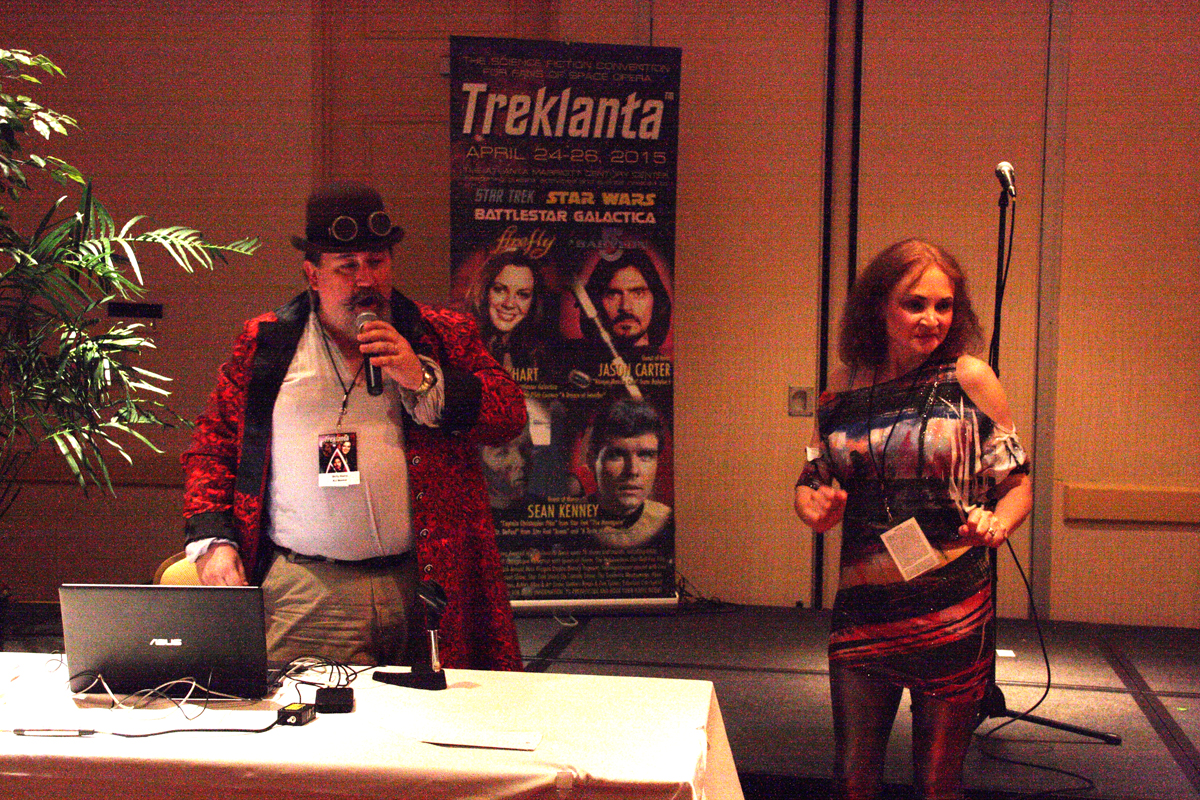 "Dirty Harry"
"Dirty Harry" (a.k.a. Hendry Betts III) is the host of the ever-popular Dirty Harry's Karaoke Cantina. "Dirty Harry" has brought his enormously popular karaoke show to Treklanta every year since 2015 and we're delighted to have him back again this year! Come sing one or more of your favorite tunes! Tips gratefully accepted.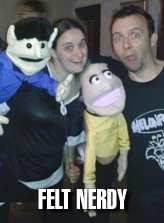 Felt Nerdy
Felt Nerdy is the Atlanta-based husband and wife puppetry performance team of Veronica and Charles Bramlett. Their Star Trek and science fiction-themed puppet shows have consistently been one of the most popular events at Treklanta since 2014, and we are pleased to welcome them back for another highly entertaining show in 2019.
Guest Artists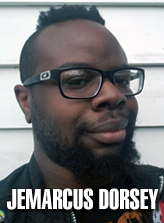 Jemarcus Dorsey
Jemarcus Dorsey of Dragonstone Beadworks has been working on his artistic style of crafting with beads and canvases for five years. Check out his content on Facebook and Instagram.

Treklanta is pleased to welcome Jemarcus Dorsey to her first Treklanta Artists Alley in 2019.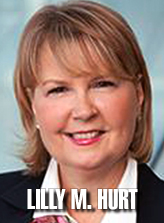 Lilly M. Hurt
Born in Florida and raised in the South, Lilly M. Hurt is a self-taught artist with deep creative roots compliments of her mother. What started as a gift-making hobby for friends and family has turned into a productive home business.

Hurt's specialty is mxed media art comprised of Steampunk, science fiction/fantasy and vintage treasures. She offers unique, one-of-a-kind repurposed cigar boxes that are always a hit at the markets and vendor events throughout the South. In addition, she specializes in the vintage train cases like the ones your mother had back in the '60s and brings new life to each customized piece. These works of art can even be tailored to your own personal taste or for a particular occasion when ordered in advance.

Hurt has participated in various artisan markets in the Atlanta area. With the love she puts into each restored piece, it is no wonder that she has a heart for helping those in need, which is why she was a featured vendor at the Favor Foundation's Vendor Fair for Change in Charleston, South Carolina, raising funds to help the homeless. Examples of her work can be found at JustInCaseByLilly.Etsy.com.

Treklanta is pleased to welcome Lilly M. Hurt to her first Treklanta Artists Alley in 2019.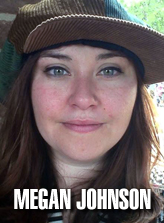 Megan Johnson
Megan Johnson is a self-taught mixed-media artist. She paints with acrylic, watercolors and gouache. In her spare time, she LARPS and is a avid video gamer.

Treklanta is pleased to welcome Megan Johnson to her second Treklanta Artists Alley in 2019.
Sarah Jordan
Sarah Jordan is a "polycrafter," which means she crafts in multiple mediums. Her main focus is traditional artwork and painting; colorful, geeky, nerdy fan art and originals. She uses watercolors, acrylic paints, ink, graphite, charcoal, markers, colored pencils and cloth in her creations. She runs a studio in the historic Lowe Mill Arts & Entertainment facility in Huntsville, Alabama, and looks forward to returning to Treklanta!

Treklanta is pleased to welcome Sarah Jordan to her third Treklanta Artists Alley in 2019.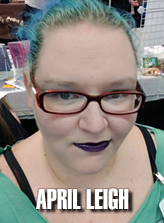 April Leigh
April Leigh, a.k.a. "Lipstick Llady" and formerly known as "Miss Red," spends all of her time working hard to hand-craft beautiful bags from custom fabrics and high-quality materials, as well as fun accessories. There is always something new to behold at her space, so even if you think you know what you will find, you don't know the half of it. Leigh brings all the geeks to the yard with nostalgia, crossovers and that little something no one else has!

Treklanta is pleased to welcome April Leigh to her first Treklanta Artists Alley in 2019.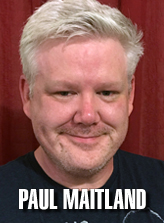 Paul Maitland
Paul Maitland is an artist originally from the United Kingdom but now living in Atlanta. Using oils, acrylics and colored pencils, Maitland creates fanart homages to the movies and TV shows he grew up with.

Treklanta is pleased to welcome Paul Maitland to his second Treklanta Artists Alley in 2019.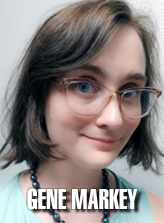 Gene Markey
Gene Markey is a digital illustrator and cartoonist creating work for tabletop gaming, literature, comics, fantasy and sci-fi in Atlanta, Georgia. She's been working on her bold and colorful style as a gaming and comic artist for over ten years, and she's now showcasing her illustrations. Follow her work on Facebook and Instagram.

Treklanta is pleased to welcome Gene Markey to her first Treklanta Artists Alley in 2019.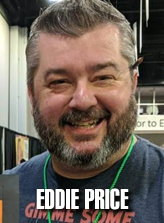 Eddie Price
Eddie Price is a freelance artist from northwest Georgia who has quickly built a fan base with his unique 3D art, keeping the audience turning heads and becoming known as "that 3D guy." Price is also an international artist for Topps and Upper Deck and does fan art for character actors from The Walking Dead, often accompanying them at appearances across the United States.

Treklanta is pleased to welcome Eddie Price to his first Treklanta Artists Alley in 2019.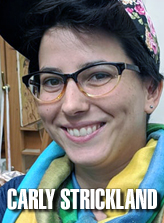 Carly Strickland
Carly Strickland is an artist located in Birmingham, Alabama, who draws and paints cats, dogs and all manner of sci-fi! Her favorite word is "awesome," and her favorite topic of conversation is Star Trek! She has three cats that she loves almost as much as her husband. Almost. She also enjoys gardening, sewing and knitting, and she plays the ukulele... poorly.

Having previously exhibited in our Artists Alley in 2015 and 2017, Treklanta is pleased to welcome Carly Strickland back for her third year in 2019.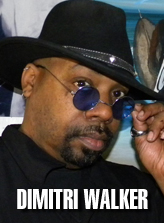 Dimitri Walker
Born and raised in Atlanta,
Dimitri Walker
is a simple artist at heart. Brush, paint and canvas are his tools. He has been a portrait artist since 1983, primarily graphite (pencil). In 1994, Walker began to paint with oils and acrylics. He also took a job picture framing to be near the art world. He continued to learn and became a Master Certified Framer. In 2005, at 40 years old, Walker went to college and earned a Bachelors of Fine Art. In the spring of 2012, while teaching a drawing class at a local art gallery, a student/friend who took his class to learn to draw the TARDIS better, said to him, "Dimitri, I know you watch and love all the same shows and movies I do.
Supernatural
,
Star Trek
,
Doctor Who
,
Star Wars
,
Firefly
and all the comic book movies. I have been to your web site. Why don't you have any Fan Art?" Walker replied, "What's 'Fan Art'?"
And the rest is history.
Treklanta is pleased to welcome Dimitri Walker back to our fifth Artists Alley in 2019. Visit his web site at
Paintings by Dimitri Walker
.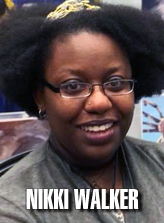 Nikki Walker
Nikki Walker sells handmade jewelry that references pop culture, nerd stuffs and anything else that might strike her fancy. The goal of her e-store, Mini Myla Musings, is to invoke thought through the passion of writing, no matter the format. Walker wears her sarcasm like a badge and makes it possible for others to wear theirs as a bracelet, necklace and sometime soon, on their sleeves. Her slogan is, "Nerdy and sarcastic are always fantastic!"

Treklanta is pleased to welcome Nikki Walker to her first Treklanta Artists Alley in 2019.