Guests of Honor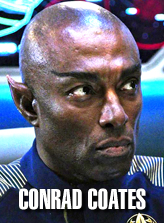 Conrad Coates
Conrad Coates is a British-Canadian actor who played Admiral Terral in the Star Trek: Discovery episodes "Choose Your Pain," "Lethe," "Si Vis Pacem, Para Bellum" and "Into the Forest I Go."

The Toronto-based actor has appeared in over 100 television episodes and more than 40 stage productions. Coates' first television appearance was in a 1989 episode of War of the Worlds. Since then, he has appeared in recurring roles on These Arms of Mine, La Femme Nikita, The Zack Files, Tracker, Slings and Arrows, Bionic Woman, The Dresden Files, Kyle XY, Degrassi: The Next Generation, Da Kink in My Hair, Disney XD's Skyrunners Testimonials, Sanctuary, Saving Hope, The Strain, Good Witch, Defiance, V Morgan Is Dead, Cardinal and Dark Matter. He also appeared as General Field in the 2016 blockbuster motion picture X-Men: Apocalypse. A veteran of the stage, Coates spent two seasons at the Stratford Shakespearean Festival performing in Romeo and Juliet, The Taming of the Shrew and As You Like It.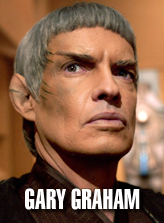 Gary Graham
Gary Graham played two roles in Star Trek: the Ocampa Tanis in the Star Trek: Voyager episode "Cold Fire" and the Vulcan ambassador Soval in eleven episodes of Star Trek: Enterprise, including "Broken Bow," "Shadows of P'Jem," "Shockwave, Part II," "Cease Fire," "The Expanse," "Twilight," "Home," "The Forge," "Awakening," "Kir'Shara" and "Terra Prime." He reprised his role as Soval in the independent Star Trek fan film Prelude to Axanar and also played Ragnar in the fan films Star Trek: Of Gods and Men and Star Trek: Renegades.

Beyond the realm of Star Trek, Graham is probably best known for playing Matt Sikes in the television series Alien Nation and a recurring role on the television series M.A.N.T.I.S. His feature films include Lost on Paradise Island, Hardcore, The Hollywood Knights, All the Right Moves, The Arrogant, The Last Warrior, Robot Jox, Man Trouble, Necronomicon: Book of the Dead, Flight of the Dove, To Die Quietly, Steel, Running Woman, Siren, Plugged, Mistaken Identity, InAlienable, Quantum Quest: A Cassini Odyssey, Dreams Awake and Action Hero.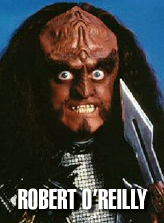 Robert O'Reilly
Robert O'Reilly played Gowron in four episodes of Star Trek: The Next Generation ("Reunion," "Redemption," "Redemption II" and "Rightful Heir") and seven episodes of Star Trek: Deep Space Nine ("The House of Quark," "The Way of the Warrior," "Broken Link," "Apocalypse Rising," "By Inferno's Light," "When It Rains..." and "Tacking Into the Wind").

O'Reilly will attend our VIP Champagne Reception on Friday evening, host a Q&A hour on Saturday and Sunday afternoons, serve as a judge for the Miss Klingon Empire Beauty Pageant on Saturday evening, and serve as a presenter at the Bjo Awards on Sunday afternoon. At other times, he will be available for autographs and portrait photo opps.
Featured Guests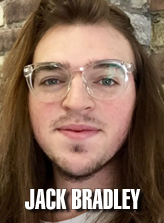 Jack Bradley
Jack Bradley was born in Atlanta, Georgia, but has spent the last two and a half years in Québec City, Québec, studying visual arts at Université Laval. Through a longtime interest in constructed languages, he is also a Klingon language speaker. With regular practice, he has achieved his goal of becoming proficient in Klingon and now does his part to fuel the interest for the fastest-growing language in the galaxy. At the Klingon Language Institute (KLI)'s 25th annual qep'a', taking place this summer in Indianapolis, Indiana, Bradley hopes to pass the KLI's Klingon Language Certification Program level three test, officially making him a po'wI' (Advanced Speaker). He also incorporates his love of Klingon into his artistic practice, creating his own Klingon language publications and illustrations.

Bradley will be teaching two classes at this year's Treklanta for those interested in getting an introduction to the wonderful world of tlhIngan Hol.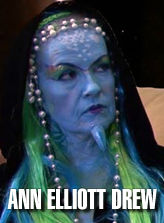 Ann Elliott Drew
A local stage actress, Ann Elliott Drew has been involved with Potemkin Pictures for two years, both behind the scenes as makeup artist, sound technician and wardrobe mistress for their productions, as well as onscreen as a frequent guest character. She has played an Alobe, a Klingon, a human space lab researcher and an Andorian scientist. She's been a tremendous asset to the production, and will be at Treklanta to assist in the filming of the Potemkin Pictures production being shot on Friday night.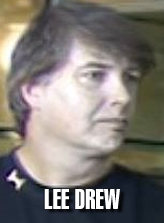 Lee Drew
Lee Drew has had quite a background in local theater in Birmingham, Alabama. He has been involved with Potemkin Pictures since 2015 and is almost always on the set during shoots, whether on camera or behind it. Drew has played a Klingon several times, but is best known for his portrayal of Erik Drogo, Chief Security Officer of the USS Deimos. Drew will be at Treklanta to assist in the filming of the Potemkin Pictures production being shot on Friday night.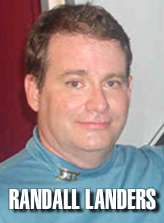 Randall Landers
Randall Landers plays Commander Brian Reigert in Project: Potemkin. Set shortly after Star Trek: The Undiscovered Country, Project: Potemkin is a fan film series that takes place in 2296 aboard the USS Potemkin, an uprated Constitution III class starship (such as the USS Enterprise, NCC-1701-A).

The creator and executive producer of Project: Potemkin called Mableton, Georgia, his home town until he went off to Emory University in Atlanta. Graduating with a B.A. in Liberal Studies, Landers began working at Kinko's, a nationwide copy center, in 1980. In 1983, he became the manager of the Georgia Tech Library Copy Service which at that time was managed by Kinko's. In 1986, he and his longtime girlfriend Linda Marcusky moved to Albany, Georgia. Not finding a copy center to work for, Landers turned to teaching and taught Science to 6th graders in nearby Sylvester, Georgia. With the birth of his third child in 1994, Landers retired from teaching and opened Fast Copy, Albany's first copy center. In 2013, Landers sold Fast Copy and started his own video services company, Stellar Video Services, which produces corporate-level videos and commercials and provides other business-related video services. Landers has also been the publisher and editor-in-chief of Orion Press, which has published hundreds of fanzines over the years.

Landers appears in "The Old Guys" and "Care for a Lift?" as the thoroughly unlikeable Brian Reigert.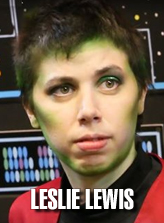 Leslie Lewis
Leslie Lewis has been involved with Potemkin Pictures since 2014. She has played a Simian science officer, a Romulan spy and now a half-Orion, half-Betazoid kick-ass security chief. She also has written a script being filmed at this year's Treklanta, and has directed and edited a few episodes.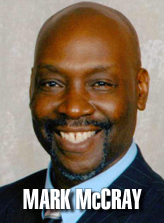 Mark McCray
Mark McCray is a senior manager of programming operations for Adult Swim, a division of Turner Broadcasting System, that offers original and acquired animated and live-action series for young adults. In this role, he oversees Adult Swim's on-air promotions and scheduling strategy. McCray is an award-winning television writer and has been in the broadcasting industry for over 18 years. He has a passion for programming strategy, animation and comic books. Prior to his work at Adult Swim, he worked as a television programmer for Cartoon Network and was a key member of the team that launched the Boomerang Network. McCray is also the author of The Best Saturdays of Our Lives, a book that chronicles the origins of competitive Saturday morning animated programming. For The Best Saturdays of Our Lives, he has been interviewed on Williams Street Swap Shop, Adult Swim's daily streaming web series, NYIT Magazine, and the Grumpy Old Nerds online series. More recently, McCray was interviewed on Show Snob/FanSided and Drawn: The Story of Animation podcast.

McCray resides in Powder Springs, Georgia, with his family. Follow him on Twitter at @MarkmcCray54 and visit his web site at www.thebestsaturdaysofourlives.com.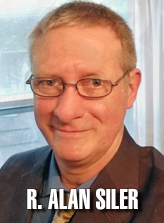 R. Alan Siler
R. Alan Siler is a writer, drummer and librarian who has been a Star Trek fan since seeing Star Trek II: The Wrath of Khan in a theater somewhere in Florida in 1982. He has published two books on Doctor Who (Doctor Who's Greatest Hits: A Guide to the Best Episodes from Time and Space and Facing the Raven: Doctor Who Series Nine in Review) and is the co-editor of Children of Time: The Companions of Doctor Who. His newest book, Star Trek's Greatest Hits: A Guide to the Best Episodes from the Final Frontier, will be released in May 2018. As an essayist, occasional blogger and columnist for Target Audience Magazine, Siler has published articles on Doctor Who, Star Trek, Saturday Night Live, Buffy the Vampire Slayer, Twin Peaks, classic sci-fi and horror movies, and various music topics. His next major project is a book on the career of David Bowie. For the past 13 years, he has served as the co-chair of the Atlanta-based Doctor Who convention, WHOlanta (formerly TimeGate).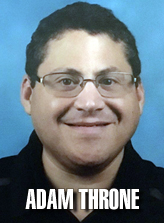 Adam Throne
Adam Throne is an Atlanta-based educator and writer/editor. He works for Fulton County Schools, where he teaches literature, creative writing and journalism. He has also taught courses in science fiction, fantasy and horror for New York City schools. He has written and edited for numerous online and print publications, including TheForce.net, DoctorWhoNews.net, Fantasy-Matters.com, SHOOTonline.com, Brandera.com and Kaplan multimedia. Throne is also the Director of the Otherworlds Track at WHOlanta. As a lifelong Trekker, he's amassed a considerable collection of Star Trek comics, lore and convention stories, and is thrilled that his own children have discovered Star Trek through the joys of repeatedly watching Tribbles fall on Captain Kirk in crystal-clear Blu-ray.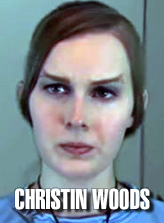 Christin Woods
Christin Woods has been involved with Potemkin Pictures since she replaced an actress who didn't show up for a shoot. Originally, she was jokingly referred to as "T'No-Show," which was flipped into "T'Noshi," a relatively young Vulcan science officer who has served aboard both the USS Potemkin and the USS Tristan. She is quite the actress, model and makeup artist as well.
Guest Performers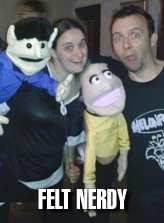 Felt Nerdy
Felt Nerdy is the Atlanta-based husband and wife puppetry performance team of Veronica and Charles Bramlett. Their Star Trek and science fiction-themed puppet shows have consistently been one of the most popular events at Treklanta since 2014, and we are pleased to welcome them back for another highly entertaining show in 2018.
Guest Artists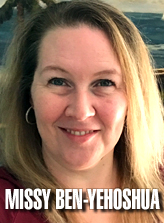 Missy Ben-Yehoshua
Missy Ben-Yehoshua is a self-taught, mixed media artist living in Atlanta, Georgia, focusing on handcrafted fiber art and jewelry. She is best known for her wide variety of fabric themes, large assortment of awareness ribbon colors and blending pop culture with awareness. Creating and helping others are Ben-Yehoshua's passions and she's found a way to do both. With every handmade creation sold, she donates to Alzheimer's or cancer charities.

Treklanta is pleased to welcome Missy Ben-Yehoshua to her second Treklanta Artists Alley in 2018.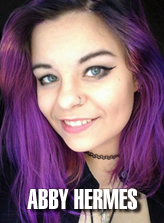 Abby Hermes
Based in Georgia, Abby Hermes is an artistic chameleon who specializes in a wide variety of art forms. After starting her first art-based business at age 11, Hermes has continued to explore and create art with any material she can get her hands on (digital illustration, traditional landscapes, portraits and special effects makeup, to name a few). Now, 14 years later, she continues using her artistic passion with freelancing and teaching art at Kennesaw State University.

Treklanta is pleased to welcome Abby Hermes to her second Treklanta Artists Alley in 2018.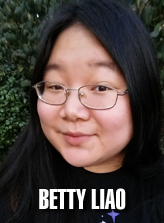 Betty Liao
Betty Liao graduated from the Savannah College of Art and Design with a BFA in sequential art. She specializes in digital painting and illustration and is a background designer at Bento Box Entertainment, where she has worked on 2D assets for indie games.

Treklanta is pleased to welcome Betty Liao to her second Treklanta Artists Alley in 2018.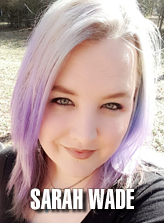 Sarah Wade
Sarah Wade is a mixed-media artist with a current focus on watercolor and acrylic painting. Her work features a large variety of pop culture themes and characters, as well as original concepts, sea, space and landscapes with a healthy dose of mermaid lore. She currently runs a studio at The Flying Monkey Arts Center, 2nd Floor South, at Lowe Mill Arts & Entertainment in Huntsville, Alabama, the largest privately owned arts center in the United States. Wade teaches watercolor classes and hosts several community events at her studio each month, vends at conventions around the Southeast and in her spare time, enjoys gaming, both LARP and tabletop.

Treklanta is pleased to welcome Sarah Wade to her second Treklanta Artists Alley in 2018. For more information about her, visit her web site at Sarah Wade Studio.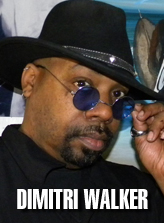 Dimitri Walker
Born and raised in Atlanta,
Dimitri Walker
is a simple artist at heart. Brush, paint and canvas are his tools. He has been a portrait artist since 1983, primarily graphite (pencil). In 1994, Walker began to paint with oils and acrylics. He also took a job picture framing to be near the art world. He continued to learn and became a Master Certified Framer. In 2005, at 40 years old, Walker went to college and earned a Bachelors of Fine Art. In the spring of 2012, while teaching a drawing class at a local art gallery, a student/friend who took his class to learn to draw the TARDIS better, said to him, "Dimitri, I know you watch and love all the same shows and movies I do.
Supernatural
,
Star Trek
,
Doctor Who
,
Star Wars
,
Firefly
and all the comic book movies. I have been to your web site. Why don't you have any Fan Art?" Walker replied, "What's 'Fan Art'?"
And the rest is history.
Treklanta is pleased to welcome Dimitri Walker back to our fourth Artists Alley in 2018. Visit his web site at
Paintings by Dimitri Walker
.